Powerhouse PTA volunteer elected to national board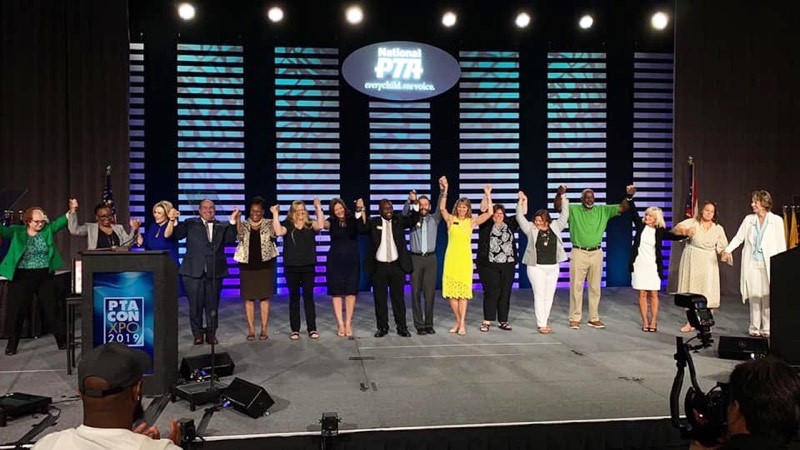 The 2019 National Parent Teacher Association (PTA) Convention took place in Columbus, Ohio, from June 20-23. Lehi resident Stacy Bateman, Utah PTA Region Nine Director, attended with several other representatives from Utah. Bateman ran for the National PTA Board from the floor of the convention and was elected to the 16-member board.
The PTA is a 120-year-old, nationwide network of families, students, teachers, administrators, and business and community leaders devoted to making a difference to the education, health, safety, and well-being of every child, and making the potential of every child a reality. The national board has 16 members and a presidency, with eight elected each year so it's never a completely new board. The national PTA has four million members, 24,000 local units, 16.5 million students served.
Bateman went through a rigorous application process that began about a year ago in order to run for the National PTA Board. It wasn't until January 2019 that she found out the status of her application, which was that she hadn't been selected for the slate by the nominating committee (she would not be on the ballot ahead of the convention), but she could apply to be on one of several committees. Bateman still wanted to try to get on the board, but she was nervous about running "from the floor." A friend convinced her she had nothing to lose and she should try just for the experience. Candidates could give a few speeches and there was an hour-long meet-and-greet with the candidates during the 36 hours leading up to the election, but that was the only campaigning they could do. In her speech, Bateman talked about bringing people together and the success they've had at Lehi Junior High where she was PTA president for the last two years.
"There are so many parents who don't really know how to advocate for their child. They don't always know what resources are available and they don't want to be a bother to anyone. Teachers want to be contacted! Principals want to hear from parents if their child is struggling! In my role as PTA president I was able to bring those groups together," said Bateman.
Based on her credentials, Bateman was a long shot to be elected to the national PTA board. She has never been a state PTA president; she has never served on a national committee – most people try at least two years in a row before they're elected to the board. Bateman's experience "on the ground" and her refreshing energy won over the voters at the national PTA convention. She will serve on the national PTA board for the next two years. Every board member also serves on one of the national committees and Bateman will continue to be PTA Region Nine Director in Utah.
"In elementary schools you see the PTA doing carnivals, fun runs, and take-home libraries – all these amazing things people want to be engaged with. I don't think people realize, especially locally, the depth of advocacy for children the PTA provides," explained Bateman. "PTA is the largest advocacy voice for children."
"A friend told me that what I do stresses her out! I didn't think when my oldest child was in kindergarten that I would be a region director for PTA or on the national board. You start out coming to your kid's class, volunteering where and when you can. These kids change you forever and they remember you. We have no idea the good that we do," Bateman concluded.