Butterfly Biosphere takes flight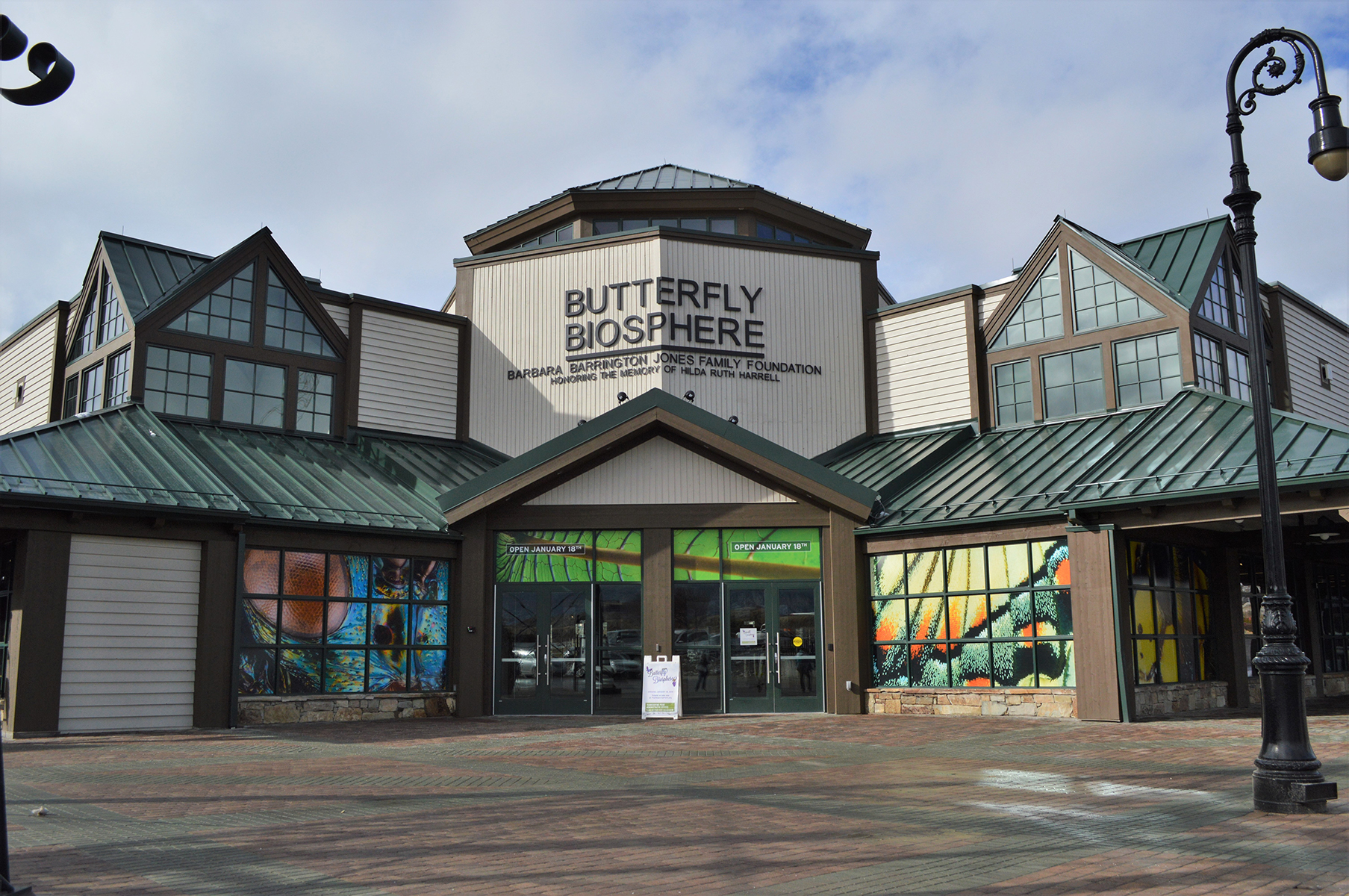 Guests enthralled by art, science, and beauty
"This is an exciting day for Thanksgiving Point, and for Utah," said Mike Washburn, President and CEO of Thanksgiving Point Institute, when he spoke at the ribbon-cutting ceremony for the Butterfly Biosphere, Thanksgiving Point's fifth venue, on Thursday, January 17. The interactive museum and butterfly conservatory is, according to Washburn, a quintessential Utah experience.
"Informal education is at the heart of what we do," Washburn continued. "We make it fun and engaging. We inspire kids to be curious, and we hope we inspire adults to be curious as well." The Butterfly Biosphere, like all of the Thanksgiving Point venues, was built with families in mind. Interactive displays with knobs and dials are all within reach of small hands and children can be nose-to-nose with giant spiders and insects behind glass. Washburn identified five things that make Thanksgiving Point the "epitome of all things Utah"; beauty, family, spirituality, innovation, and entrepreneurship.
Students from Wasatch Peak Academy in Salt Lake City worked with Thanksgiving Point for over a year, brainstorming ideas for the Butterfly Biosphere. The children drew pictures of things they'd like to see in an insect-themed museum and those drawings are behind glass in a gallery area near the entrance to the building, with the reality just a few steps away. Where the greenhouse used to be there is a treehouse with a lab, living quarters, and a slide. In another area, children can sit in a cocoon and imagine what it feels like to be underground with other creepie-crawlies.
While the focus of the Butterfly Biosphere is science and technology, art has been woven into almost every corner of the venue. Artist Dennis Smith created a sculpture of an airship adaptation of a butterfly. The whimsical flying machine resembles a bicycle with wings, with a bronze figure of a girl in the driver's seat. Smith said of his creation, "I kept thinking of a queen, a queen of the garden. At the same time, she reflects the visions and passions of early 20th-century flight when dreamers dared envision that humans might take flight."
The primary donor for the Butterfly Biosphere is Barbara Barrington Jones, a prominent Utah philanthropist who has sponsored Ballet West and The Museum of Natural Curiosity at Thanksgiving Point. Barrington Jones's mother, Hilda Ruth Harrell, was the inspiration for the Butterfly Biosphere. Harrell, an airplane pilot at a time when very few women were flying, was known as "The Butterfly Lady."
The butterfly conservatory, the second largest butterfly house in North America, is the most magical part of the Butterfly Biosphere. Stepping through the doors is like entering another world, one that is 85 degrees and 60% humidity. Hundreds of butterflies in almost as many colors flit throughout the space, among the brightly colored plants and flowers. The butterflies will sometimes even land on human visitors. Each day 150 to 200 butterflies are released from the Emergence Window, which provides a glimpse into the working lab of the Butterfly Biosphere. Row after row of cocoons in different stages are on display for guests to see.
"Our main goal right now is to have happy, healthy bugs that can't get out. We want to set up amazing habitats – we want every habitat to tell a story," said Zak Gezon, head entomologist at the Butterfly Biosphere. "Once we're up and running we'll get more into the science aspect. In my opinion, if you're going to have animals on display you should be contributing to science and conservation also." Gezon has worked all over the country, in Costa Rica and with Disney on their animal programs team.
During the ribbon-cutting program for the Butterfly Biosphere, Karen and Alan Ashton, founders of Thanksgiving Point, explained their vision for the property back in 1995. "Into everyone's life comes a period of time where some sorrow or grief causes a temporary lapse in happiness. That happened to me after the birth of my last child. I found out how connected I was with nature during that time. If I could get outside every day and watch the flowers bloom, eat the berries from my garden, watch the bees pollinate the garden, I knew I was going to be okay. It gave me peace," said Karen Ashton. She also went on to explain that she and her husband wanted to create a place where families could come and learn together, cementing their relationships and re-connecting with nature and God.
"Butterflies are small but significant, and that applies to all those who visit the Butterfly Biosphere," added Alan Ashton.
The Butterfly Biosphere at Thanksgiving Point is open Monday through Saturday from 10 a.m. to 8 p.m. It is a time-ticketed attraction, so tickets must be reserved in advance. The Butterfly Biosphere is part of the Thanksgiving Point membership. Tickets for those without membership are $20 for adults, $15 for children and seniors.