The Lehi home with ties to Joseph Smith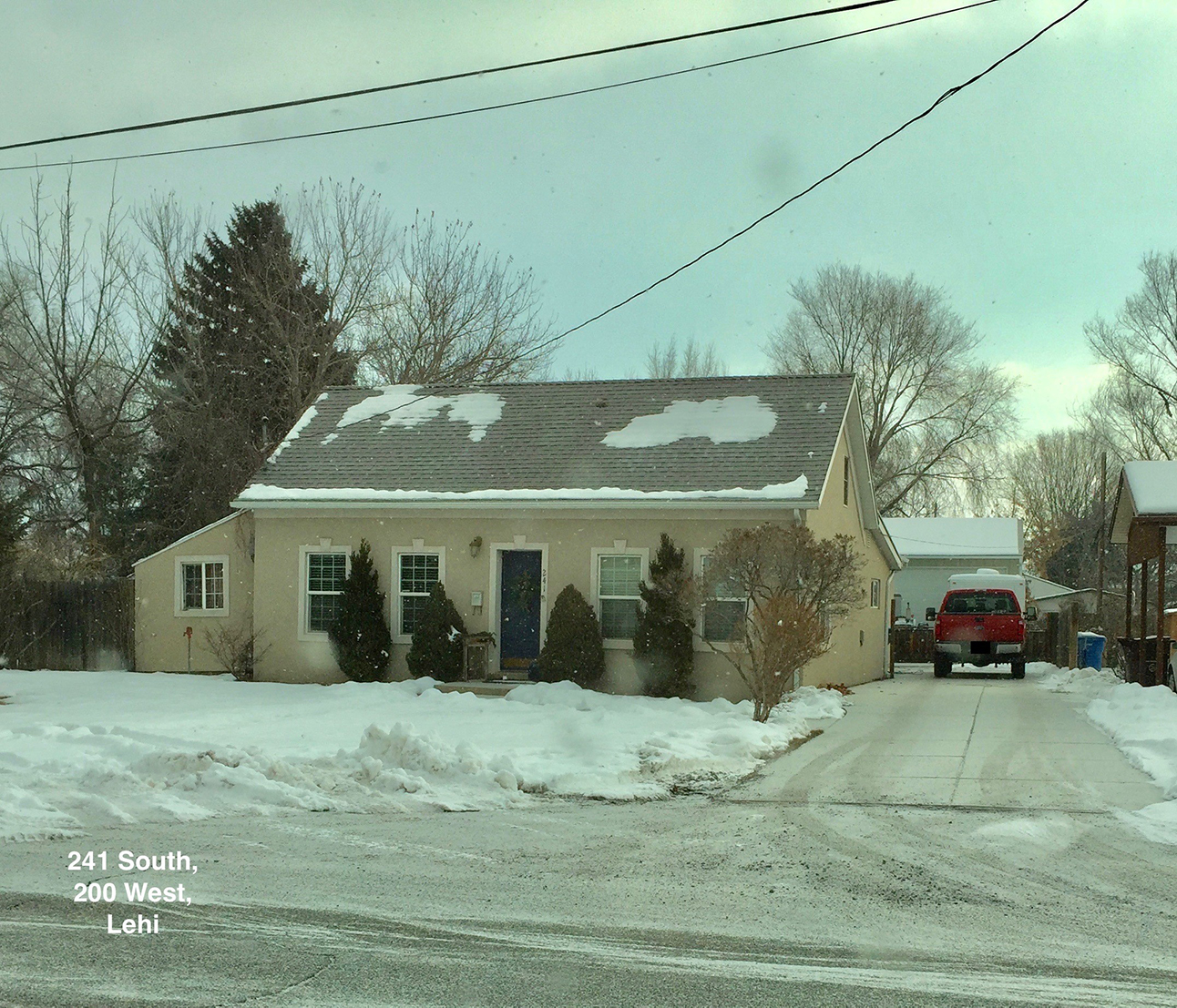 Melissa Lott Smith Bernhisel Willes and the Winn families of Lehi were once residents
The house at 241 South 200 West is one of the oldest houses standing in Lehi, Utah, today. From all indications early Mormon pioneer Ira Jones Willes (1812-1863) built it, of Albany County, New York. It was the home of Ira and his wife, Melissa Lott Smith Bernhisel Willes (1824-1898), and their children, from as early as 1854 or 1855, until about 1856 when the family moved to Great Salt Lake City. In their absence, the house was occupied by John Winn (1804-1863), of Minden County, New York, his son, William Henry Winn (1833-1884), and William Henry's wife, Martha Evans Winn (1842-1926), a daughter of Lehi's LDS bishop, David Evans (1804-1883).
Before they were married, Ira and Melissa both lived in Nauvoo, Illinois. John Winn and his wife, Christiana Finch Winn (1799-1854), also lived in Nauvoo. Melissa and her family lived on a farm owned by the Prophet, Joseph Smith, Jr. The Winn family had an adjoining farm. Melissa lived at times with her family on the farm and at times in the home of the Prophet in Nauvoo where she helped with the care of the Smith children.
Joseph Smith visited the farm on 20 September 1843. Nineteen-year-old Melissa was at the farmhouse that day, as were her parents, who stood as witnesses as Joseph's brother, Hyrum Smith, performed the ceremony by which Melissa became one of Joseph's wives and was now Melissa Lott Smith. Melissa became a widow on 27 June 1844, when a mob killed the Prophet. She traveled west from Nauvoo with her father's family in 1848. In 1849 she became Melissa Lott Smith Bernhisel Willes when she married Ira Jones Willes in Great Salt Lake City.
In 1851 Ira and Melissa moved south to the area that would become Lehi. They settled at a place known to early settlers as Stinkweed Springs, near the homes of Melissa's mother and her siblings by the northern shore of Utah Lake. In 1853 all settlers in the area moved their cabins to the Lehi City fort. The 241 South, 200 West adobe home was built near the site of the Willes cabin.
In 1850 (or 1852) Christiana Winn, Melissa's eldest son, Thomas Griffin Winn (1829-1904), and her youngest son, George Finch Winn (1839-1856), crossed the Great Plains from Nauvoo to Great Salt Lake City then to Lehi. John Winn and his son William Henry Winn remained in the Nauvoo area. They were still there when the settlers were moving their cabins into the 1853 Lehi City fort.
John Winn's name was placed on the list of settlers with cabins on the South side of the 1853 fort by mistake. Thomas Griffith Winn was in Lehi at the time. He must have been in one of the cabins on the South side of the fort. In 1857 he signed a consecration deed in Lehi listing livestock, household furniture, farming tools, wheat, corn and potatoes, hay, farmland, and "Lot 3 on Block 7 of the Lehi Survey of Building Lots with an adobe house thereon." A house at 168 West, 200 South stands on the lot today.
It might be reasonable to suppose that John and William Henry Winn would have moved in with Thomas Griffin Winn when they arrived in Lehi in 1856 or thereabout, but this doesn't appear to have been the case. Instead, Thomas and his son and his son's young wife moved into the 241 South, 200 West adobe home Ira and Melissa had recently vacated. They were there in the 1860 census while Ira and Melissa were in Great Salt Lake City.
John Winn died on 1 January 1863 in Great Salt Lake City "at the home of Aunt Malissa Lott Smith Willis (sic)". Sometime after that, Ira and Melissa moved back to the 241 South, 200 West home in Lehi. Ira died in Lehi on 6 December 1863. Melissa never remarried. She was known as "Aunt Melissa" in Lehi where she remained until her death in 1898.
The locations of early Lehi homes with brief sketches of their owners are presented in Mormon Pioneers in Lehi, Utah Territory, 1856-1860, part of the Wayne E. Clark Collection on the website of the Lehi Historical Society and Archives, https://www.lehihistory.com. Related articles on early Lehi history are part of the same collection. Wayne E. Clark is a retired Auburn University professor. He can be reached at wayneeldenclark@gmail.com