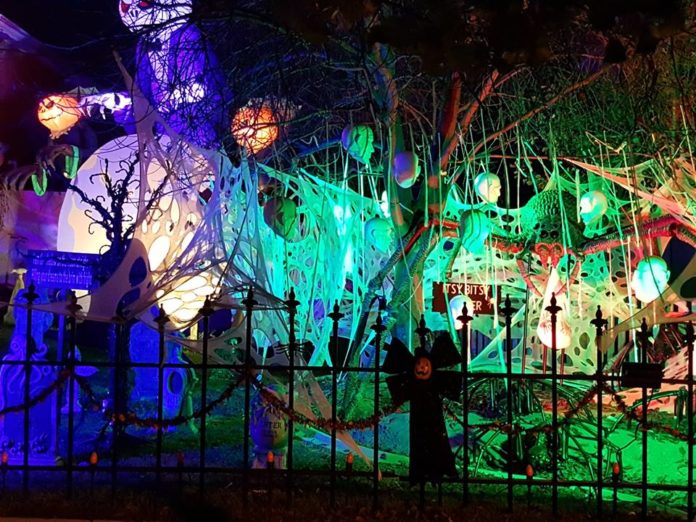 Christmas lights are to be expected, but a new trend is popping up around the city – Halloween lights. More and more houses are putting up spooky displays for the Halloween season. The following is a list of Halloween displays in and around the Lehi area. (Taken from Downey Family Holiday Lights. Visit www.facebook.com/DowneyFamilyHolidaylights for a complete list of all displays or to add your own display to their list.)
Alzor's 2017 Singing Pumpkins – 1489 N 220 E, Lehi, Utah
Lights run from dusk to 9 p.m. for the month of October. Enjoy Halloween light up displays synchronized to music. Park your car, or pull up a chair on the sidewalk and enjoy this family friendly display.
Carlisle Light Show – 525 960 W, Lehi, Utah
Downey Family Halloween – 2489 W 700 S, Lehi, Utah
Tune the radio to 107.7 to watch the light's dance to the music. The display runs from Sunday – Thursday 6-10:30 p.m. and Friday – Saturday 6 p.m.- Midnight.
Cinnamon Grove Cemetery – 402 Cinnamon Circle, Saratoga Springs, Utah
Cinnamon Grove Cemetery's display is based on the Tim Burton Film A Nightmare Before Christmas, featuring Jack Skeleton, Sally , and other character's from the movie. Lights run until 10 p.m. Monday-Thursday and 11 p.m. over the weekend.
Miracle Max's – 366 W. 2800 North Street, Lehi, Utah
View this musically synced light show from dusk until 10:30 p.m.
Manoir de la Lune – 2401 W Willow Haven Ave, Lehi, Utah
Halloween full display set up in last week of October and a haunted walk through available October 31.
Mike's Lights – 250 E 700 S. Lehi, Utah
Mike puts up a full display of Halloween décor and lights. From his synchronized dancing pumpkins to skeleton reenactments, his place is sure to delight this Halloween Season.
Slade Halloween – 916 Coyote Cove, Lehi, Utah
This light up display full of projections, decorations, and lights entices all to enjoy during the Halloween season.