Candidates for the upcoming Lehi City Council elections have been declared. There are two open positions for Lehi City Council as Chris Condie and Paul Hancock's four-year terms are ending in January 2018. Each of them are running for re-election. New candidates are Bailey Holmes, Sean Williams, and Steven Sabey.
The primary election will be held on Tuesday, August 15, 2017 and the general election will be held on Tuesday, November 7, 2017. Ballots for the primary election will be mailed to registered Lehi voters on July 25. The Lehi Free Press will provide coverage of this year's election. A brief background on each of the candidates is featured below.
Bailey Holmes
Born and raised in Lehi, Bailey Holmes has a strong appreciation for the history and traditions of the city. Working at the Rodeo was a big part of his growing up years as he worked alongside his parents, Lec and Kim Holmes, and his grandfather, who all served on the Civic Improvement Association.
Holmes has a strong appreciation for the opportunities presented by Lehi's growth. In a letter shared on his campaign website, he said, "The unique opportunity we [Lehi] have to accomplish success is remarkable. Our growth is tremendous, our businesses are lucrative and our community has a big city economy with a small-town heart. The issue is not that we are growing, it's how we are growing. The city has created a precedent of choosing developers' interest over the needs of the citizens. I want to find an equilibrium that can both sustain growth, as well as protect small business interest and property value."
He further explained in an interview, "I think there is a lack of proper representation in Lehi City. I'll do my best to thoughtfully represent the residents of Lehi."
Holmes runs a small business, Heritage Regulator Repair, and is a student at Utah Valley University studying Political Science, with an emphasis in American Government. He is married to Madison Shiba Holmes.
Chris Condie
Chris is a native Utahn. He and his wife, Wendi, returned to Utah and moved their family to Lehi in 2007 from Lapeer, Michigan.They have been married for 14 years, and have 5 children – two sons and three daughters.
Chris is an Eagle Scout and served an LDS mission in the Boston Massachusetts Mission.
Condie attended Ricks College (Associates in Accounting), University of Colorado – Denver (Bachelors in Computer Information Systems), and Oakland University (Masters in Public Administration).
He served as President of the Administrative Professional Employee Association at Oakland University for 2 years.
Chris works for EarthSoft, Inc. and has been with the company for 10 years.  Past employment includes Director, Secure Client Services in the IT department for Oakland University in Rochester, MI and Information Security Administrator at CoBank in Greenwood Village, CO.
Chris has served on the Lehi City Planning Commission, Snow Springs Community Council, as Vice-President of the Jordan Willows HOA, as Vice-Chair of the Lehi 19th Precinct, and is a member of Lehi CERT (Community Emergency Response Team).
About his service on the Lehi City Council, Condie said he has "demonstrated effective leadership through [my] service on the City Council and have represented Lehi residents capably and honorably.
I love Lehi! I know it is a great city with tremendous potential."
Paul Hancock
Paul Hancock graduated from BYU in April of 2000 with a Masters in Accounting and went to work for Intel in the corporate finance group. While working for Intel he earned his MBA from Babson College.
After leaving Intel and working for Boart Longyear for a year he was one of the founders of Taurus Drilling, which he operated until selling his interest in 2012. For the past five years Paul has held various roles at Workfront, headquartered in Lehi, Utah.  Having worked for multiple technology companies (Intel & Workfront) and having the experience of a successful entrepreneur, he feels he brings a broad business background that can add tremendous value as Lehi continues to grow.
Hancock started his engagement in public service when he led a community effort to petition the Alpine School District Board to expedite the building of a local elementary school, Traverse Mountain Elementary. The school opened its doors with 600 students in 2010 when the construction would otherwise have started no earlier than 2012.
Hancock has served on the District Community Council (DCC), working with local schools, and engaging with the Alpine School District Board monthly as well as serving as the precinct chair for, and is currently serving as a county delegate.
He is actively involved in his local church and children's school. Hancock was first elected to the city council in 2013 and is in the final year of his first term as a city council member.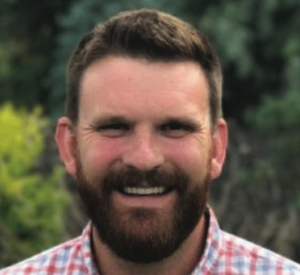 Sean Williams
Raised in Denver, Sean Williams moved to Utah County not long after completing his college education. Three years ago he moved with his family to Lehi, where he has watched what he calls "explosive growth" and felt some concern. He wants to bring his experience with team-level work projects, along with leadership experience in work settings, to the work of the City Council.
"I really like Lehi, it's a great city," Williams said. But he wonders whether the city is growing at an appropriate pace. He said that as a City Council member his priority would be "trying to evaluate what we could do in terms of planned growth. Are we going to be able to keep up?"
He said that while he thinks the City Council seems "connected with the population," he'd like to see more of a shared vision between city government and the residents of Lehi.
Williams attended Utah Valley University for one semester before completing a degree in Digital Media Communications at California State University-Sacramento. He works as a Software Development Manager for HealthEquity. He is married and has five children.
Steven Sabey
When he moved to Lehi 10 years ago, Steven Sabey already knew the city well. Growing up in Orem, he was a regular visitor to Lehi where his grandparents lived just off 200 West and Main Street. "They lived next to [Karl] Zimmerman, the chief of police," said Sabey, who recalls the open fields of Lehi in his childhood, and walking with his grandmother to the penny candy store on Main Street
As a city council member, his focus would be on responsible growth in the form of fiscal responsibility, thoughtful infrastructure planning, and careful communication between the city and the community. "Silicon Slopes is bringing in lots of growth, which is wonderful, but is Lehi going to be able to sustain that growth?" he said. "I just want to make sure…that we're responsible in our decision-making going forward."
"A lot people love Lehi because it does have a little bit of that small-town feel even though we're growing as fast as we are, and so really I'd love to keep that here even though we're growing."
Sabey is a Program Manager Over Technical Software for Optum, a UnitedHealth Group affiliate. He holds a degree in Marketing and Advertising from Brigham Young University, and an MBA from the University of Utah.